In the former Soviet Central Asian republics, the boilerplate restaurant menu consists of plov, lagman, shashlik and samsa. Tired-looking Uzbek, Kyrgyz, Kazakh and Tajik establishments all serve up the same limp noodles and oily rice with a shrug – it's their job. In the markets of Samarkand, Osh and Almaty, we found some exciting exceptions to this rule but, generally, restaurants in the region tend to successfully obscure the fact that Central Asian food, when cooked with passion, can be a riot of the senses.
In Central Asia, according to regional specialist Sean Roberts, culinary traditions have customarily been preserved by a master/apprentice system that mainly existed outside restaurants. Monumental occasions like weddings and funerals in Uzbekistan often involve several hundred guests eating multiple meals. For this, an usta is called in from his day job, like Clark Kent from the newsroom. The usta might have been plowing a field in the morning, but he quickly dons his usta hat and sets to the task of feeding an entire village an extremely important meal. The ability to do so successfully, which comes from years of working beside a master, serves an important purpose in a community and demands respect. But when it comes to restaurants in Central Asia – and, likewise, Central Asian establishments in the diaspora – the Soviet legacy has been to mimic the authentic food of the region without successfully replicating it. These places have got the menu right, but they usually lack the usta.
Such is not the case at Özbek Sofrası in the multicultural Zeytinburnu neighborhood – the Queens of Istanbul – where Devlet Timuri, an Uzbek plov (rice pilaf) usta from northern Afghanistan, prepares Central Asian specialties that offer a poignant surprise to the many immigrant communities that call the neighborhood home. Just down the street from Taş Camii, where elderly men in exotic headgear lounged in the mosque's courtyard, a string of young girls in bright, baggy salwar kameez wandered hand in hand past the window of Özbek Sofrası during our recent visit. At one table in the bright dining room a man sat with a gym bag open on the table counting out endless stacks of 10 kuruş coins, as if he'd just knocked off a video arcade. Behind him in the open kitchen, over steaming pots of basmati rice spiked with carrots and raisins, Devlet shared a bit about his history in the trade.
Devlet Usta started as a boy working alongside his father, who was a plov maker in the bazaar in Faryab, Afghanistan. He and his brothers worked with his father in the bazaar every day and throughout the province on special occasions. He fled Afghanistan in the 1980s and spent 10 years in Iran, working a jackhammer by day and making plov, freelance, when duty called. Finally, the road led 16 years ago to Istanbul, where he married a woman from the Black Sea and opened his own restaurant in Zeytinburnu, a district with a large Central Asian population. Though the restaurant is his main livelihood, he lights up at the chance to pull out the really big pots, which remind him of those mammoth gatherings back in Faryab. "I made plov for 500 people over the weekend," he said casually, pointing out a picture on the wall of Devlet Bahçeli, the leader of Turkey's Nationalist Movement Party (MHP). "I made a very big plov for Devlet Bahçeli's son," he added with pride.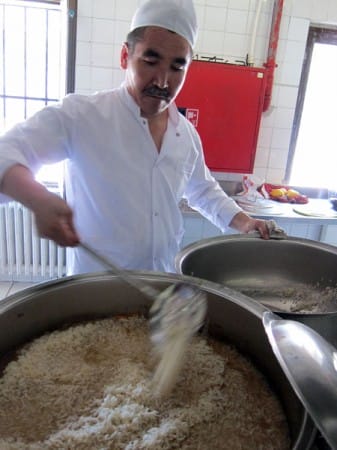 But in his daily life in the kitchen of Özbek Sofrası, Devlet Usta and his family turn out an excellent lunch on a much smaller scale. His shashlik is made from beautiful cuts of beef (not lamb but, yes, beef!) that is marinated overnight, rendering it meltingly soft and extremely flavorful. The complimentary green salad was dressed in a very decent (and very un-Uzbek) olive oil. Less Uzbek than Afghan, the freshly prepared bolani was a thin, fried pastry stuffed with tiny green mung beans. Another rarity was an Afghan dish called ashak, which is as close to spinach-stuffed ravioli as we've ever eaten in Turkey. They also make their own Uzbek- style naan in a large bread oven – an endeavor that's noteworthy in its own right, but is all the more rare because the bread is whole-grain.
And then, out came the pride of the Uzbeks, a plate of fist-sized, meat-filled mantı, dressed with a little bit of crushed tomato and parsley. We love mantı and have eaten it religiously from the Balkans all the way to the Tien Shan. Mantı, more than most foods, is so handmade that we feel it transmits the feelings and personality of its maker. We've had clumsy but lovable Georgian mantı, proud, crescent-shaped Circassian mantı, dainty little Kayseri mantı and a lot of soggy, bored mantı as well. The mantı served by Devlet Usta was made with great care and precision: paper-thin dough, artistic folds cresting like the rim of a volcano, powerful aroma. This was ustalık, we thought, true mastery of the mantı-making craft gained after a long life in the kitchen. We asked Devlet how he does it.
"The gelin makes them," he admitted of his Afghan daughter-in-law. A mantı prodigy from Afghanistan is making some of the best dumplings in town? With such jealousy-inducing skills that we daresay eclipse those of her usta father-in-law, she'll have a tough road ahead of her. We hope for the best but, hedging against the worst, we're eating as much of her mantı as we can these days. Get it while you can.
The post Özbek Sofrası appeared first on Culinary Backstreets.