A small group of sommeliers, oenophiles, and at least one intrepid food and beverage writer are gathered outside Grape Wine Boutique in Istanbul's Teşvikiye neighborhood. More than once does a passing car feel the need to honk as the crowd, tasting glasses in hand, spills into the narrow street from the even more narrow sidewalk. As the first cork is pulled, a nervous energy spreads among the group.
We've gathered to taste the first official vintage of Mesashuna Wines, the only licensed winery in Turkey's northeastern Artvin province, a rugged region not far from the border with Georgia. At the center of the circle stands attorney-cum-vigneron Safiye Arifağaoğlu. In her hands is a wax-crowned bottle, its label illustrated with four goat horns. As Arifağaoğlu fills our glasses with a cloudy, gold-hued Rkatsiteli, she explains the significance of the image.
"There are four siblings in my family – Melek, Safiye, Şule, and Nazim," she says. "Our parents founded the winery as an inheritance for us."
"Mesashuna" is a portmanteau of the Arifağaoğlu siblings' names.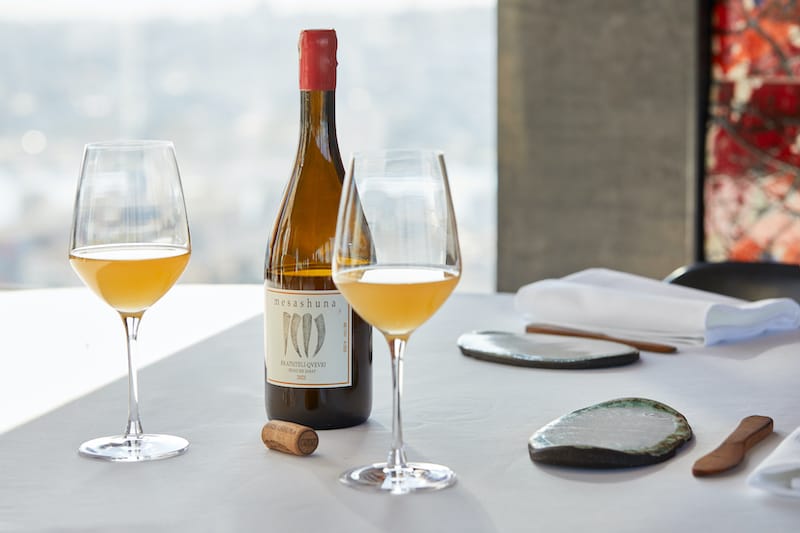 The horns are khantsi, the traditional drinking vessel of Georgia. These khantsi pay homage to a wine culture that transcends political borders.
"Our winery is on the Georgian border. Lots of Georgian people live here," says Arifağaoğlu.
Georgia boasts what some archeologists have identified as the world's oldest wine culture. For more than 6,000 years, humans have been making wine with buried clay amphoras and local grape varieties. Even the Soviet Union's attempts to modernize wine production in state factories and ban private wine production failed to eradicate Georgia's proudest tradition.
In recent years, Georgia has become the darling of the natural wine movement, which celebrates the country's organic viticulture and dazzling array of local grape varieties. Perhaps most famously, the Georgian tradition of longer macerations with white-skinned grapes, which creates a more tannic, amber-colored wine, led to a proliferation of natural winemakers from Italy to Australia using the technique.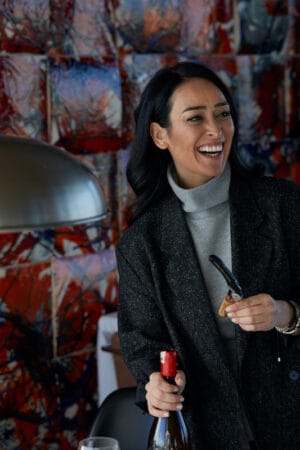 But for the Arifağaoğlu family, Georgian-style wine, made by Georgian friends and neighbors or sourced on frequent trips to Georgia, was simply a part of life. Seventeen years ago they planted two Georgian grape varieties, Saperavi and Rkatsiteli, on their family farm and began making wine for their own consumption.
A visit from Sabiha Apaydın, founder of the Turkish wine symposium Kök Köken Toprak, inspired the family to share their wines with a wider audience. They applied for and received a license to commercially produce wine, making them the only licensed winery in the entire province.
These first commercially licensed bottles offer a glimpse of Artvin's largely unexplored terroir.
"Artvin is an agricultural paradise. The biodiversity is unbelievable," says Arifağaoğlu.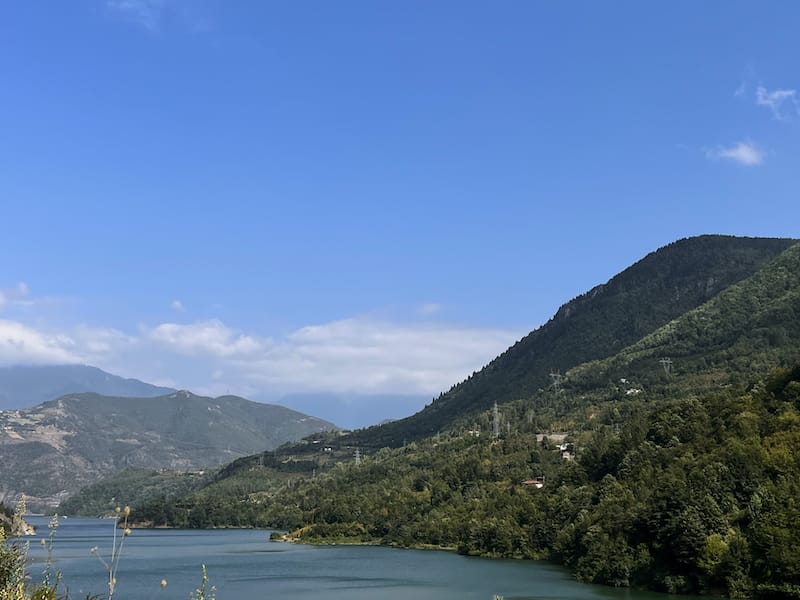 Like much of Turkey's Black Sea region, Artvin has a temperate climate with year-round precipitation. Arifağaoğlu credits the terroir for the different expressions of Saperavi and Rkatsiteli – the two grapes often called "the jewels in Georgia's crown."
"Instead of high alcohol, we have high-energy wines," she says. "Around 12.5% alcohol for Saperavi and 11-11.5% for Rkatsiteli."
That energy is especially palpable with the 2021 vintage Rkatsiteli. Notes of orange blossom and grapefruit zest on the nose give way to flavors of bruised apple, quince and walnut. The wine is juicy and refreshing with none of the tannin one expects from a longer maceration. A hint of smoke in the finish reveals the telltale sign of a qvevri (or kvevri) wine.
"I decided to concentrate on this mysterious process of qvevri wine," says Arifağaoğlu. "Qvevri is a clay vessel. It's used to ferment and store the wine."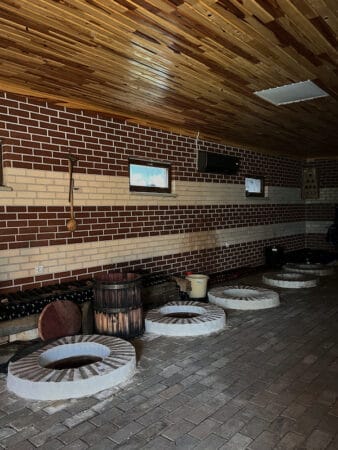 A few weeks after the tasting we catch up with Arifağaoğlu over Zoom. An abnormally warm summer is forcing Mesashuna to harvest the new vintage a month earlier than planned. Arifağaoğlu and her team have been hard at work labeling the previous year's vintage and preparing her family's 17 qvevris for the new harvest.
"We trying to stick to the traditional methods, from the tools that we use to the wine-making methods," says Arifağaoğlu. "One of the most important things for us is keeping everything as natural as possible with no intervention, from the vineyard to bottling no chemicals are used."
Mesashuna's low-intervention approach to making wine is by no means hands-off.
"The grapes are fermented with their natural yeast, so hygiene is very important," she says. In the case of the larger 750-liter qvevri, that actually involves climbing inside the amphora to thoroughly clean the porous clay interior before the harvest begins.
"After hand-harvesting the grapes, we gently squeeze the selected grapes and take the free-run juice, skins and best stems and everything goes into the qvevri," says Arifağaoğlu.
Once alcoholic fermentation begins, the wines must be "punched down" at least four times a day – a process where long paddles are used to push the grape skins and stems that float to the surface back in the fermenting must.
After fermentation, the wine is transferred to a new qvevri to rest. Arifağaoğlu repeats this process monthly, a technique called "racking" in the wine world, in order to naturally clarify the wine as sediment sinks to the bottom of the qvevri over time. Mesashuna's wines do not undergo any commercial fining or filtration.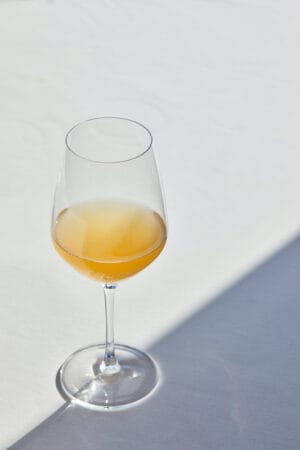 This year, Arifağaoğlu is using a handful of smaller qvevri for some experimental fermentations.
Saperavi and Rkatsiteli are grapes primarily associated with Kakheti, a wine region in Eastern Georgia. But Artvin borders Western Georgian, and Arifağaoğlu wants to explore how western Georgian grapes will fare in Artvin's climate. This year Arifağaoğlu plans on experimenting with Kartlis Tita, a lesser-known grape sourced on one of the Arifağaoğlu family's many trips around Georgia.
"Experience is the best teacher," says Arifağaoğlu. "The more experience I have, the more curious I become."
Mesashuna's production is extremely limited, even by boutique winery standards. Between the two cuvées, their annual production is around 2,000 bottles. But those who aren't able to make the journey to Artvin can find Mesashuna's wines at a select number of Istanbul restaurants and wine shops.
The post Mesashuna: Georgian-Style Wine from Turkey's Artvin Province appeared first on Culinary Backstreets.